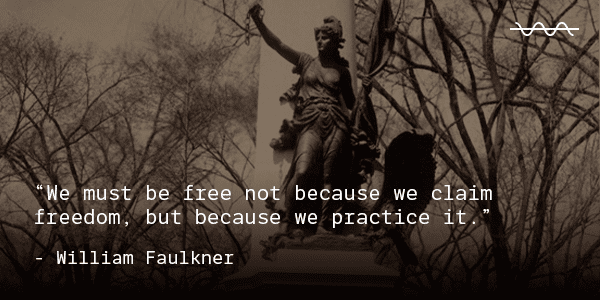 Have you ever wanted more for the world you live in?
Have you ever witnessed something that you know in your heart is wrong?
Have you ever made a promise to yourself that you will do things a different way?
Your ability to feel these things makes you human.
But your ability to act on them makes you free.
Many of us settle for the lie that our vision is too ambitious.
We let others water down our values, drop by drop until we don't know who we are anymore.
And all too often we choose the easy compromise rather than sticking to the hard vows we once made.
I have a question.
Why?
258 years ago a bunch of pissed-off farmers took a stand so that you could dream bigger.
253 years ago, Crispus Attucks took the first bullet and gave his last breath so that you could hold true to what you've always believed.
And six agonizing years after that, your freedom to forever live out your visions, your values, and your vows, was secured with ink and the blood of seven thousand men.
We will celebrate those pissed-off farmers next week. And with that, there are two things I sincerely urge you to do:
Celebrate with vigor.
Don't forget who you are.
You won the lottery to be born in a country that believes that your beliefs are important enough to protect at the highest cost. Don't let anyone coerce you away from what you know you need to do.
Don't let your freedom to choose how you love, live, and give go to waste.
Regardless of our circumstances and the messes we make, we are still the luckiest of the lucky ones.
Happy freedom day, friend.
Go live it.
BW