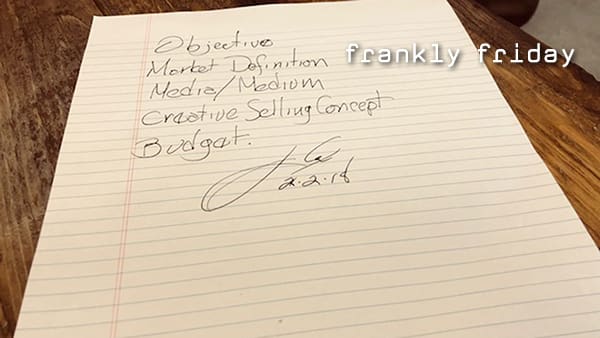 Jim swirled his glass of wine and leaned back in his chair as he said, "This is all I needed to know for every client and business I ever had:
Objective – What do I want to achieve?
Market Definition – Who do I have to get to in order to reach my objective?
Media / Medium – What's the best way to get to that market to reach that objective?
Creative Selling Concept – What am I gonna have to say, over what medium to get to that objective?
Budget – How much is all this shit gonna cost?"
He has a lot of fun these days and calls it work. Someday I'd like to have done half of what he's accomplished.
I think I'll ponder this weekend on his simple approach. 
Will you?
BW